Join Jackson Hole EcoTour Adventures on an unforgettable Multi Day Winter Wolf and Wildlife Safari in the heart of the American Serengeti! We'll spend 4 full days exploring the Greater Yellowstone Ecosystem, focusing on the Northern Range of Yellowstone National Park, some of the best wolf habitat in the lower 48 States! With concentrated elk and bison herds in the Lamar Valley, winter is the best time of year to observe wolves in their natural habitat.
Our years of experience in guiding in Yellowstone and close relationships with Park Biologists ensures the best possible opportunity to view wolves and other Yellowstone Wildlife! Your Naturalist Guides come prepared with intimate scientific knowledge of the Park, Track and Sign Certification from CyberTracker International, and are trained Wilderness First Responders. We'll also enjoy an evening dinner with a Yellowstone Wolf Biologist, getting the latest updates on wolf research in the Park.
January and February departure dates coincide with peak wildlife activity and one of the quietest times of year for tourism, meaning Yellowstone is ours to explore free of crowds! In January, wildlife have settled into winter ranges, concentrating in the valleys, ideal for wildlife spotting. February is the wolf mating season, and provides ample opportunities to view wolves as they move across the landscape searching and courting potential mates.
We'll also explore Yellowstone's Northern Range on snowshoe, visiting frozen waterfalls, studying track and sign, and exploring Mammoth Hot Springs. Immerse yourself in the winter splendor of Yellowstone's stunning landscape and wildlife, an intimate experience you won't forget.
Detailed Itinerary
Tours Arrive and Depart from Bozeman, MT
2019 Trip Departure Dates
February 23-28
Day 1 Arrival Bozeman - At your leisure, Introductions and Dinner with your guide
Arrive in Bozeman to start your Winter Yellowstone Adventure! Your Naturalist Guide will meet you for a welcome dinner, where you will get to know other guests and prepare to explore winter in the American Serengeti. It's one of the quietest times of year to visit Yellowstone, meaning we will be among a dedicated few experiencing the park during this incredible time of year.
Day 2 Bozeman, Paradise Valley, Mammoth Hot Springs, Yellowstone's Northern Range, Gardiner
Departing Bozeman this morning we'll experience the winter vistas of the Paradise Valley. As we follow the Yellowstone River up towards Yellowstone National Park, numerous opportunities to view wintering wildlife abound, including pronghorn, deer, rough legged hawks, bald eagles, bighorn sheep, elk, and bison. After an early lunch just outside the park in Gardiner our next stop is the Travertine terraces of Mammoth Hot Springs. As the evening's safari travels eastward through the Northern Range of Yellowstone National Park we will pass through the territories of four known wolf packs. We'll end the safari with an evening in the Lamar Valley, before returning to Gardiner for dinner and to prepare for the next day.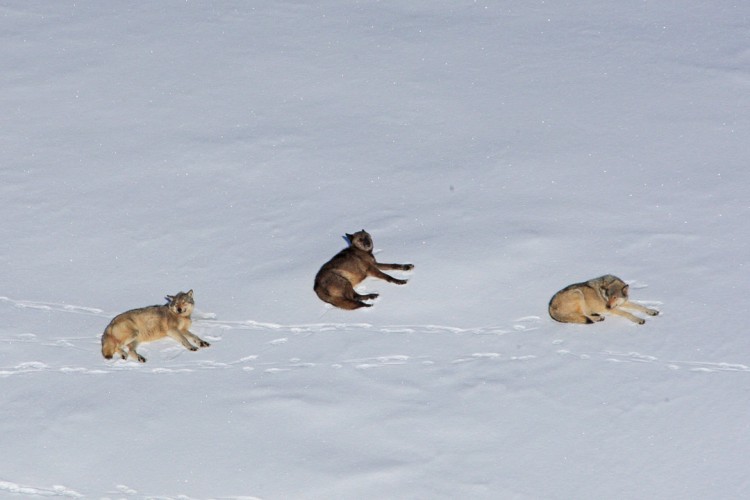 PC: Kira Cassidy/NPS
Day 3 Yellowstone - Lamar Valley, - Cooke City - Gardiner
We rise early for a full day of wolf and wildlife watching in Yellowstone's Northern Range! Winter is a busy time for wolf watching, and we will be in contact with Yellowstone Wolf Project Crews who are out in the field observing wolf behavior. We'll also enjoy views of Yellowstone's diverse wildlife, including the largest remaining wild herd of American Bison, our National Mammal. After lunch in Cooke City, we return to the Park, stopping to glass for moose along Soda Butte Creek and bighorn sheep and mountain goats high atop peaks in the Absaroka Mountains. Wolf Activity peaks at dawn and dusk so we will head back out to the park for an evening safari before heading back to Gardiner for the night.
Day 4 Yellowstone - Lamar Valley, Snowshoeing, Gardiner
Our 4th day starts early as we continue our search for Yellowstone's winter wildlife. As an Apex predator, wolves provide a bounty for scavengers like golden and bald eagles, ravens, magpies coyotes, foxes, and even small mustelids such as ermine and martin. As wildlife activity drops off midday we'll depart the safari vehicle, opting for snowshoes to explore the winter landscape, studying the track and sign left behind by the regions diverse wildlife. We'll return to the vehicle for hot drinks and an evening safari in the Lamar Valley. Our tour today also includes a midday or evening presentation by a Yellowstone Wolf Biologist.
Day 5 Yellowstone to Bozeman
We have one final opportunity to search for Yellowstone's wolves and wildlife this morning, rising with the sun to head out into the Northern Range. The cascades of Undine and Wraith Falls await us after our morning safari. In the afternoon we'll return to Bozeman via the Paradise Valley, stopping to observe eagles, herds of pronghorn, bighorn sheep, elk and other wildlife. Enjoy a farewell dinner with your guide, including a presentation by our conservation partners the Greater Yellowstone Coalition.
Day 6 Depart Bozeman
For guests departing in the morning your guide will arrange airport transfer. Others may wish to extend their visit by exploring this western town, including a visit to the Museum of the Rockies, or skiing at nearby Bridger Bowl.
Why join a Winter Wolf and Wildlife Tour with EcoTour Adventures?
EcoTour Naturalist Guides Make the Difference - Our years of experience in guiding in Yellowstone and close relationships with Park Biologists ensures the best possible opportunity to view wolves and other Yellowstone Wildlife during your trip! Your Naturalist Guides come prepared with intimate scientific knowledge of the Park, Track and Sign Certification from CyberTracker International and nearly a decade of experience guiding tours.
Best Opportunities to Observe Wolves in the Wild - Our departure dates are designed around the best times of year to observe wolves and Yellowstone's wildlife.
Small Group Sizes - We keep group sizes to a maximum of 7 guests per naturalist guide, maximizing your experience. All EcoTour Adventures are equipped with custom safari windows and roof hatches for each guest, ensuring everyone gets the best view possible.
High Quality Optics - We provide Lander, WY based Maven binoculars and spotting scopes for all guests. We also use PhoneSkope Adaptors to capture the action through the scope with our phones, sending you home with fun video from your trip!
Commitment to Conservation - ETA donates 5% of wolf watching tours to Wolf and Wildlife Conservation with our friends at the Greater Yellowstone Coalition
What's Included
Lodging Accommodations
Use of Maven Binoculars and Spotting Scopes during tour
EcoTour Adventures Naturalist Guide(s) (Wilderness First Responder and CyberTracker International Certified) and support staff (if needed)
All meals from dinner on Day 1 to Breakfast on Day 6
Some Guide Gratuity
All activity and entrance fees, taxes, permits, and service fees
STIO Down Parka and Midlayer to keep you warm! + a 25% off discount code for other STIO Apparel!
Not Included
Travel to and from the Trip start and end point
Baggage fees, airport taxes
Alcohol
Guide Gratuity
Personal Items
Passport and Visa fees (if any)
Optional activities
Travel protection and medical evacuation insurance
Physical Requirements
Winter in Yellowstone is often a challenging and cold environment. Daytime Temperatures are often below 30 degrees F and can reach below zero in this high elevation (more than 5000') environment. Tours typically encounter snowy, icy, wet, and cold conditions. The snowshoe portion of the trip will cover 1-3 miles of flat to slight inclines depending on weather conditions and guest ability. Please view the packing list below and come prepared to spend time outside in the cold experiencing the Greater Yellowstone Ecosystem!
Packing List
Thick wool socks
Insulated winter boots (sorel etc)
Warm Hat and Gloves
Neck Gaiter
Thermal Base Layers
Warm Layers
Insulated snow pants
Winter Coat
Clothes for Hotel
Personal Items
Camera and extra batteries
Four Full Days of Wildlife Tours (appx. 8-12 hrs each day) plus arrival and departure from Bozeman, MT
Trip Dates:
February 23-28
Maximum of 7 guests per guide/vehicle everyone is guaranteed a window seat. A maximum of two vehicles and 14 participants per trip. Age minimum 12 years
$3900 - Per Person Double Occupancy
$700 - Single Supplement
We are happy to customize your private trip: Call 307-690-9533
We are focused on creating the best experience possible for all of our guests. From hiring the best guides, providing the best foods, and making sure every detail is covered, we are here for you! You may be here only once, so lets do it right the first time.
We provide vehicles with Roof Hatches for safe and unobstructed viewing.
All of our vehicles have 4 Wheel drive and studded tires, essential for winter travel in Yellowstone.
In all of vehicles everyone is granted a window seat! There is always plenty of room for jackets, camera gear, backpacks etc…
In our larger van there are no uncomfortable benches that are hard to get in and out of. We have installed comfortable captain chairs.
We use PA systems when needed, have installed cup holders, have stools for easier access, and our guides are always willing to help you in and out of the vehicle.
We are a proud partner of Lander, Wyoming based Maven Optics. Each guest has access to Maven B.1 or C.1 8x45 binoculars for personal use during the tour. For viewing wildlife from afar we use S.1 spotting scopes with a 25-50x magnification. We also use PhoneSkope adaptors to capture the action through the spotting scope on our phones, sending you home with fun photos and video from your trip!
Our naturalist kits help provide the opportunity to touch and see different items up-close including antlers, pelts, claws, horns, and more. All items were collected outside of the National Parks or purchased, it is prohibited to take anything out of the parks.
We provide a Wildlife Sightings List for the participants in your tour fill out if you like.
Your Children will love our "Children's Activity book". They can work on this during the tour or take it home for later. This book is filled with crosswords, coloring pages, matching games, wildlife bingo, and other engaging activities.
All of our guides carry Radios. As the day unfolds, we don't want you to miss any great wildlife sightings. All day long our guides are in contact sharing sightings with each other. When the location and timing is right we will head to that active wildlife hotspot for uninterrupted viewing.
We provide iPads on all tours that are filled with maps, wildlife photos, diagrams, animal sounds and other visual aids to enhance your learning experience.
We at EcoTour Adventures take our Coffee seriously. This is why we brew Snake River Roasting Co. organic beans for you every morning. We will serve your coffee from our vacuum insulated French Press Craft while in the park watching the sunrise. For non coffee drinkers we also stock a selection of organic teas and hot chocolate.
Book Your Trip Today!
Call (307) 690 - 9533
for more details or customized private trips.